COMMENT POSTED BY LISA...

How devastating.

Here's a proposition, everyone:

Seeing as it's December 31st, and everyone likes the motivation of a tax receipt... Why not stop by:

World VisionCanada

before the day ends?

(Tommorow would be quite fine, too, if the '04 charitable means nothing to you, but you just want to help.)

The reason I chose World Vision is beacause they help children and their families, and also because they still do this in Christ's name. (As opposed to "in the name of *humanity*".) But whatever. Choose the organization you believe in, and donate!

-Lisa

Rachel's post back...

Anyone who doesnt have a credit card can make a donation using PAYPAL where the money is taken out of your bank account like a debit transaction. There are several organizations to choose from, ei: UNICEF, RED CROSS, and WORLD VISION...and many more.

I did my part...but I'm not stopping there.

BEING ABOUT IT!


|

Banda Aceh Before and After 2004 Tsunami

|

Christmas at Opa and Oma's.

|

there is a 10 minute delay before the littermaid starts its scooping sequence. the cats will be chilling with me after their doo-doo duty and the thing will go off and they have to run off together and watch the thing. it's quite funny. i wonder if they can appreciate the beauty of this magnificant piece of genius!


|

MERRY CHRISTMAS!

Lots of excitement here...


i drove my car into a ditch yesterday and it cost me $85.00 to get out.
i spent 3 nights at the Webb's house...partially stormed stayed...that's how i ended up in the ditch...driving to work yesterday morning from their house...the roads were sucky...so i obviously didnt make it into work yesterday.

i bought the littermaid scoopless litter box at Zellers this past saturday and i love it. it works great. Luke and Anne, you should get one...it really works!
i've already gotten $70.00 in gas bucks from family from Christmas
i had a Christmas get-together last Sunday, one tonight, one tomorrow, and one on Sunday!
i have Dec.30-Jan.3 off...5 days off in a row! im so excited!
got to talk to my brother tonight for about an hour. I love you Matti!
check out this site if any of you are bored...


I am so blessed this year. It has been 11 years since I have been home and it is so nice to not be alone on Christmas Eve. I am going to get up tomorrow morning and make breakfast for the family too...Im making homemade waffles. I got a waffle maker and Kristen Webb's yummy Waffle recipe and the Webb's homemade Maple Syrup. Mmmm.

Well good night. Im gonna wash my face, make my bed (im doing laundry) and go to ...yawn... bed.


|

I was at a Christmas get-together today. It was past Kincardine and the driving was fun. At some points I couldnt even see and highway 21 was closed which apparently I would have had to have crossed over to get to my destination.

We had my favourite traditional holiday meal of Turkey, Potatoes, Dressing, Sweet Potatoes and lots of gravy for dipping home made rolls in. The food was so good. I had a good time.

I am spent now and I am ready to relaz for the rest of the evening and maybe turn in earlier than usual as I have to work at 8am tomorrow.

Goodnight.


|

This is fun!



I AM 24% WHITE TRASH!
I, my friend, have class. I am so not white trash. . I am more than likely Democrat, and my place is neat, and there is a good chance I may never drink wine from a box.

|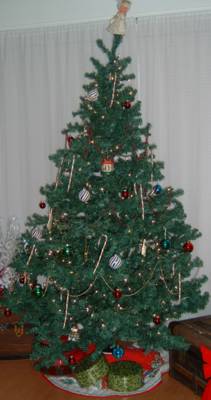 This is our Christmas Tree. My sister and I set it up last Sunday. All our ornaments are donated from friends and family because we didnt have any. Check out the tacky vintage angel on the top of the tree!

|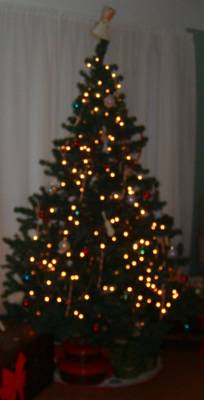 Tree in the dark.

|

MMM. Leftovers!

|

I am making dinner as I type.

I am making a roast beef from 1/4 of the organic cow we bought, organic chunky carrots from Kristen's farm, potatoes, and an experimental sweet potatoe recipe I am working on right now. It should all be ready in the next half hour or so. I will take a picture of it and post. MMMM....yummy in my tummy!


|

Hey all, Im at the Deck. I tried to update earlier this week but my computer wouldnt let me access Blogger. So here I am finally getting caught up with you all.

SO the drama and excitement this week included me getting re-certified for first aid. That was an all day cource courtesy of Wal-Mart. It was a tiring day doing chest compressions all day.

Doesnt this suck. This is all the exciting news I have ot report. Nothing else exciting has happened all week. My manager has pnemonia so I have been running the show sort of in Women's Fashion. It kind of sucks working all by myself all week with no one to chat too. I hope she gets better soon. At least it is not as busy as it should be this time of year.

Well that's all for now. Check out freecycle and join if you are from the area. It's really starting to go. I think we are up to about 30 members.


|

So for anyone who is interested in getting me a gift this year...haha...for Christmas, I have composed a Christmas Wish List. They range in price from $5.00 and up! Hope this helps! I feel shameless posting this here but I am not the only one who does this...and it beats getting a crappy gift that you have to auction off on eBay.



RACHEL'S CHRISTMAS WISH LIST...2004!
GIFT CERTIFICATE'S FOR WAL-MART or EBAY or CANADIAN TIRE or SUZY SHIER or OLD NAVY or SMART SET or THE BIBLE BOOK STORE

TERRY CLOTH SLIPPERS/FLIP-FLOPS (for coming out of the hot tub)
HOME-MADE GIFTS AND BAKING
|